Visit
What are the dates and opening times?
Saturday 14th, Sunday 15th, Monday 16th January, 2023 from 9 am to 6 pm
Tuesday 17th January, 2023 from 9 am to 4 pm
Where do the events take place?
Expo Riva Schuh takes place in a variety of premises:
Riva del Garda Exhibition Centre
Astoria Resort
Du Lac et Du Parc Grand Resort
Grand Hotel Liberty
Lido Palace
Oasi Hotel Wellness & Spa
Gardabags takes place in:
Riva del Garda Exhibition Centre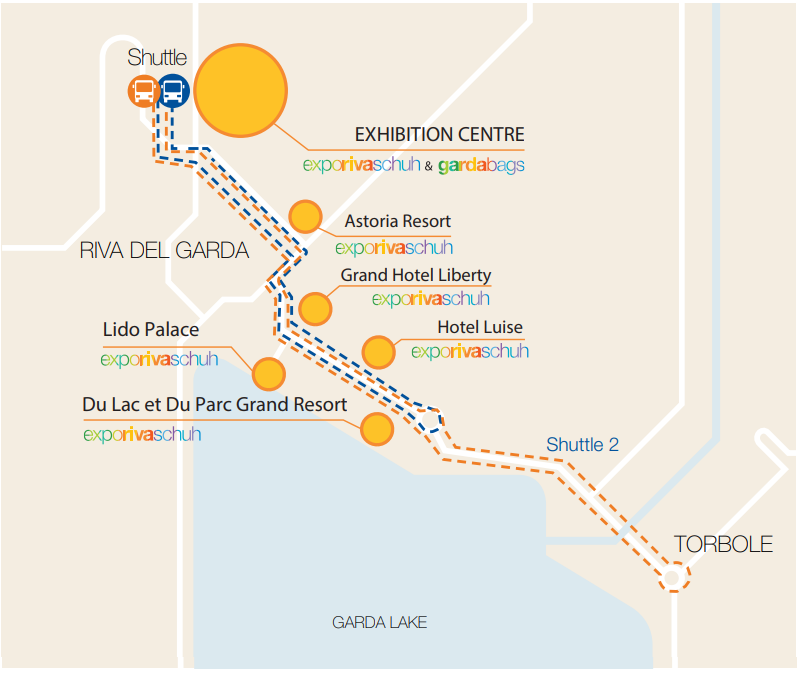 Who can visit?
Entry to the fairs is limited to organised distribution: large warehouses; hyper-markets; buying groups; online sales; chains of shops; large organised retail; wholesalers and importers; small chains and Italian and foreign retail.
How can I get the ticket for the fair?
Are you already a registered user of our Special Visitors' Area? Enter using your credentials and click on the REGISTRATION box to complete the procedure (it's free of charge).
Do you not have a registered profile yet in our Special Visitors' Area? Register to access this virtual space, enjoy the range of functions and start the registration procedure (it's free of charge).
What is the Digital Connection?
The Digital Connection offers a concrete business opportunity, designed to extend the benefits of participation in Expo Riva Schuh & Gardabags. It offers a virtual route, parallel to the fair, based on an innovative digital platform that will be active from May to September 2022.
How do I get to the fairs?
You will find all the information you need by following this link.
Is there any car parking space for visitors near the fairground?
Yes. The parking lot Ex Area Cattoi is open and free for all visitors to the fair. A shuttle bus service will be available all day during the event to connect the parking area to Exhibition Centre, which is about 3 km away.
Which is the nearest airport to Riva del Garda?
Verona Villafranca, which is about 80 km away.
Expo Riva Schuh and Gardabags offer a shuttle service for exhibitors and visitors for a small charge, from the main airports (Verona, Milano Linate, Milano Malpensa, Bergamo) to the exhibition centre.
How can I book a hotel?
CONTACT ONTHEGO, travel agency of Expo Riva Schuh and Gardabags, who will be able to offer you a wide selection of hotels especially chosen for you.
---
Didn't find what you were looking for?
We'll get back to you shortly.
---