Expo Riva Schuh
Expo Riva Schuh is today's leading international exhibition for volume production footwear at a mid-range price point. It is Europe's most important event for this market segment. Expo Riva Schuh is a meeting place for international business: an event where companies and buyers from around the world meet and interact.
There are companies from Italy and Europe, as well as the increasingly important presence of companies from India, China, and Brazil - the world leaders in footwear production. Expo Riva Schuh is the first event in the international fair calendar. This means visitors get a thorough preview of offerings and can plan orders well in advance. For exhibitors, it represents the first opportunity to test out collections and fine-tune production plans.
Expo Riva Schuh is also the last event in the ordering calendar for quick production and restocking options. This innovative feature is designed for those fair visitors – approximately 35% of those in attendance - interested in restocking options or new models for the upcoming season.
This feature actually serves a two-fold purpose; it also makes Expo Riva Schuh an excellent opportunity to identify international market trends and shifts, a real added value.
Expo Riva Schuh has always placed business first, through the strength of its role as a European crossroads for commercial exchange for the volume footwear sector. This results in statistics that have made Expo Riva Schuh the leading fair in this product category, both at national and international level.
Expo Riva Schuh and Gardabags: the widespread fair
A 360-degree fair, which thanks to its presence in the area offers a unique exhibition model, capable of enhancing the excellence of both the product offer and the area that hosts it.
Expo Riva Schuh, with Gardabags, proposes itself as a real Widespread Fair, through the exhibition network of the trade fair centre and hotels of Riva del Garda; an exclusive event that has made its location one of its strong points.
The 13 pavilions of the exhibition centre represent the heart of an avant-garde event, the ideal crossroads for new meetings, and a great opportunity to get in touch with the most important international buyers.
Stand out from the crowd! Our aim is to allow our exhibitors to personalise their presence at the fair according to their favourite exhibition methods.
The dedicated spaces in the city's hotels are the ideal setting for companies that want to choose a more suitable venue for one-to-one meetings and need locations that allow them to customise their exhibition layout, while the versatile structure of the Conference Centre makes it possible to recreate enchanting adaptations, that have always been appreciated by visitors to the event.
Tradition, but also modernity and a contemporary view of the spaces, with the brand new PalaVela, a multi-purpose centre located in front of the lake, has made Gardabags an ideal location for the event, designed to meet the growing demand of the retail sector for total look solutions.
A different way of experiencing business, which encourages meetings, as well as combining business and leisure.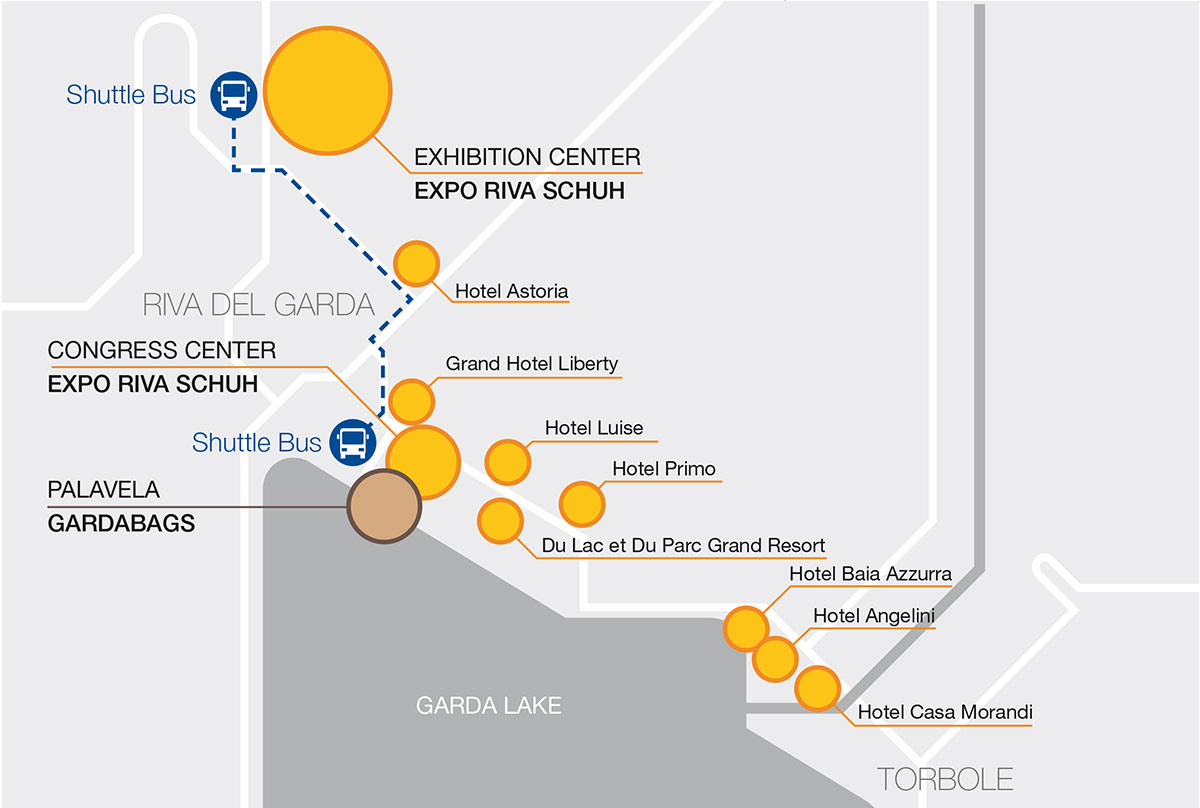 Next editions
93rd edition 11 - 14 January 2020
94th edition 13 - 16 June 2020