At Expo Riva Schuh footwear is synonymous with creativity
A well-established breeding ground of ideas and trends, Expo Riva Schuh stood out once again in June 2019 for its outstanding creative potential. Many, many ideas were proposed in over 1400 stands of the fair where amid colors, materials, knowledge and traditions successful experiences have emerged such as the one presented by Marco Rinaldi, Sales Manager for the Asian and Scandinavian areas of Mito by Caterina Firenze.
"The upside down heel model stems from an idea that is as simple as it is technically complex, namely to strip away the rules thus creating comfortable shoes with unusual shapes. – Marco goes on telling that – The patent of this sample, which is characterized by the heel being fixed to the sole, was born inside my family's shoe factory where it was kept secret for almost two decades. A few years ago the company decided to breathe new life into the project by implementing a dated but still indisputely current idea. "
It was with this philosophy in mind that Mito by Caterina Firenze begun to produce upside down heel models in Spain using a thermoplastic glue to fix the heel on the sole with the help of fictitious moulds, thus promoting a new footwear concept that couples design and wearability.
The enterprising Tuscan company was praised by buyers in this 92nd edition for its decisive line of shoes with order proposals for over 10,000 pairs for this model only.
The focus on sustainability is yet another plus of a prototype representing the resolve of the volume footwear sector to continue to work at trendy and at the same time future-oriented models combining Italian design, Spanish manufacture and international taste. In fact, the selection of natural materials witnesses both the growing interest in environmental dynamics and also the constant search for a new idea of comfort that, surprisingly, can't be separated from the primordial relationship between man and nature.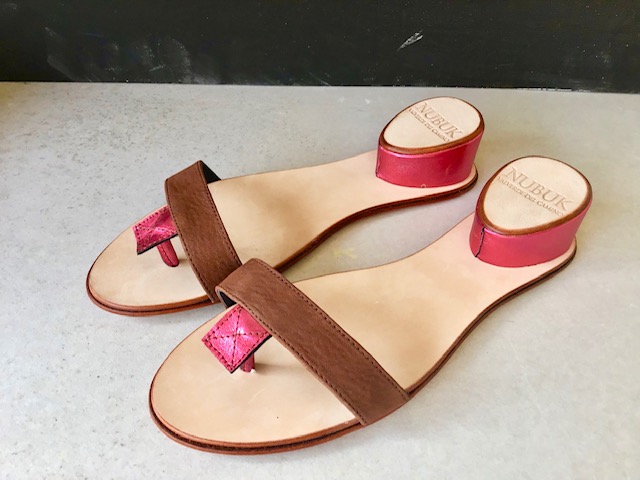 ---